Natural Cycles App Features
You can download Natural Cycles on your Android device, iPhone or iPad.

Today's view
On this screen you will get all of the info you need at one glance. A screen to enter your temperature pops up automatically when you open up the app in the morning. Once you've entered your data your fertility status will appear on the screen indicating either a green or a red day. You can go into the app and add or update your input data such as temperature, period or LH test at any time by tapping the "+" symbol.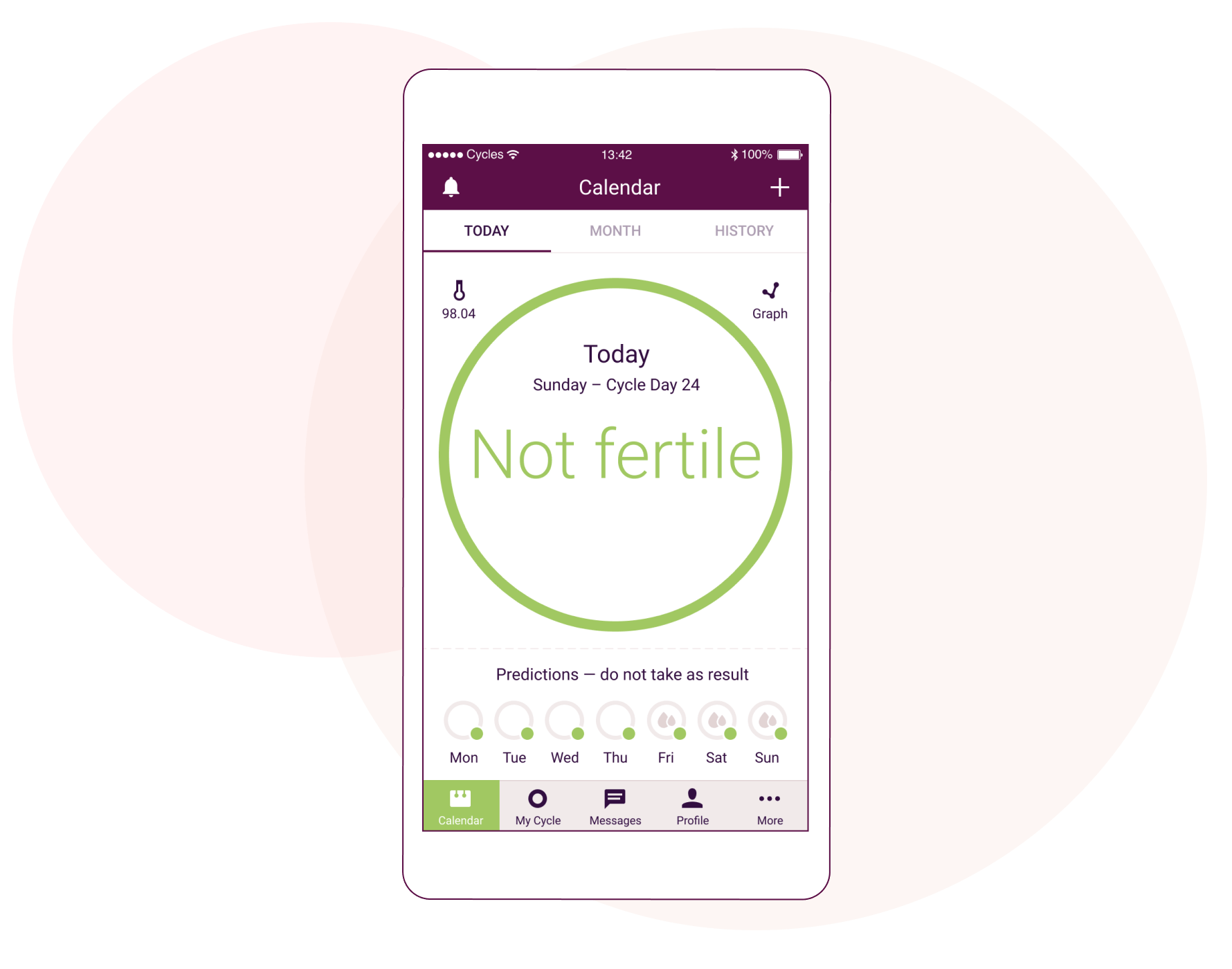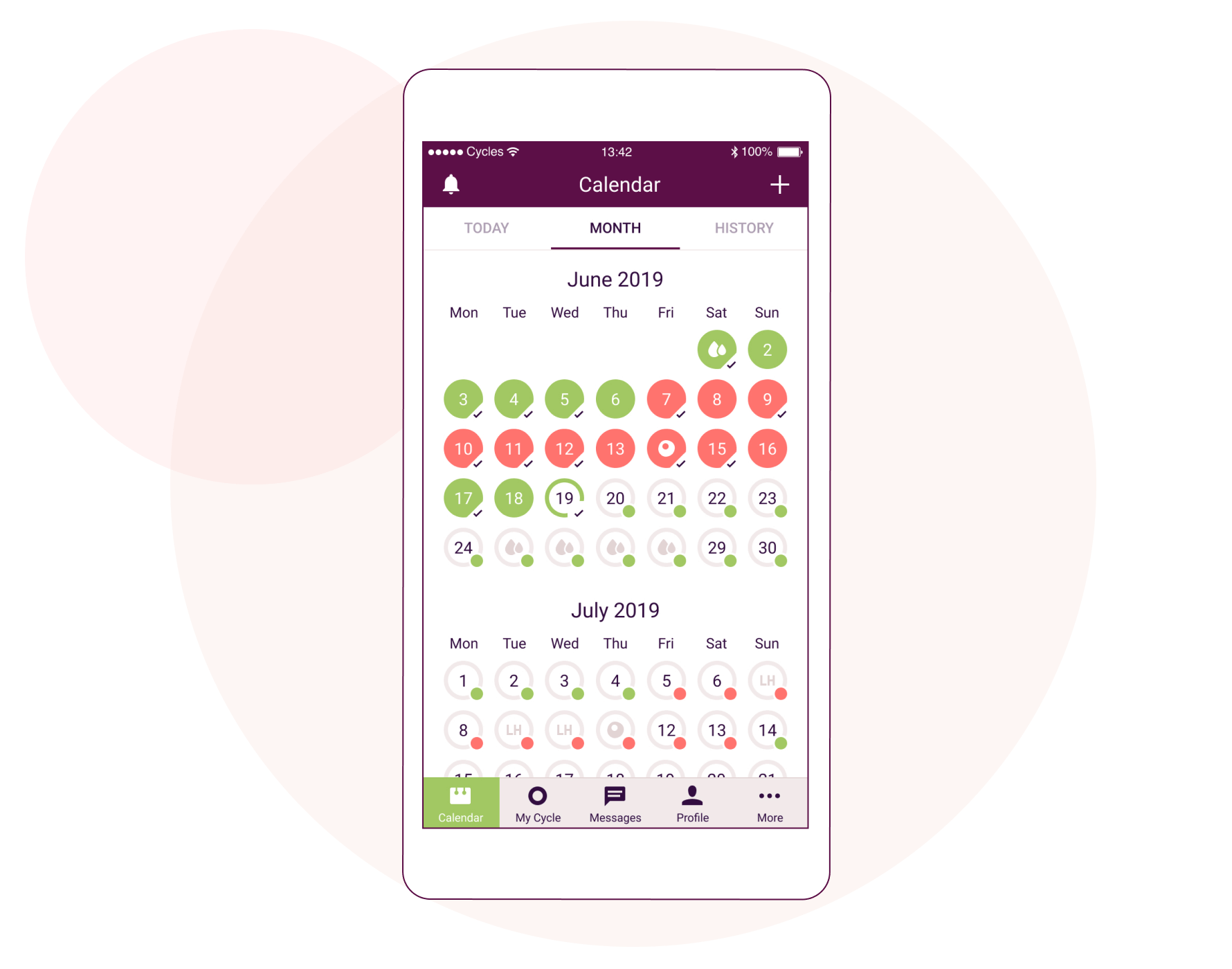 Month view
Tap the "Month" tab in the calendar view to access the monthly view. Here you can see your predicted red and green days for the month as well as when you are predicted to ovulate (marked by an egg symbol) and have your period (marked by a blood drop symbol). Just keep in mind that these may change as the algorithm analyses your data day-by-day. You can think of the predictions as a forecast – it gives you an idea of what to expect but it may change as the algorithm collects more data and is able to update its predictions with the latest information. So you should only rely on the information provided in the Today view for contraceptive or pregnancy planning purposes.

You can easily access your past data by tapping on any given day, the days on which you have entered data are marked with a "tick".
Graph view & ovulation prediction
The graph is a visualization of your temperature curve. Watch it develop as you continue to measure throughout your cycle. Swipe left or right to view graphs of your past cycle and tap "3 cycles" or "9 cycles" to compare them to each other. You can see the days you have recorded having sex on top of the graph and your period, fertile days and ovulation are indicated by colors. In the graph view, you can also see your predicted ovulation. With our latest update of the app you can see a window for your predicted ovulation, when the app is waiting to confirm your ovulation and when the app has confirmed your ovulation. The app can also tell you if your ovulation has not taken place this cycle – this is called an anovulatory cycle.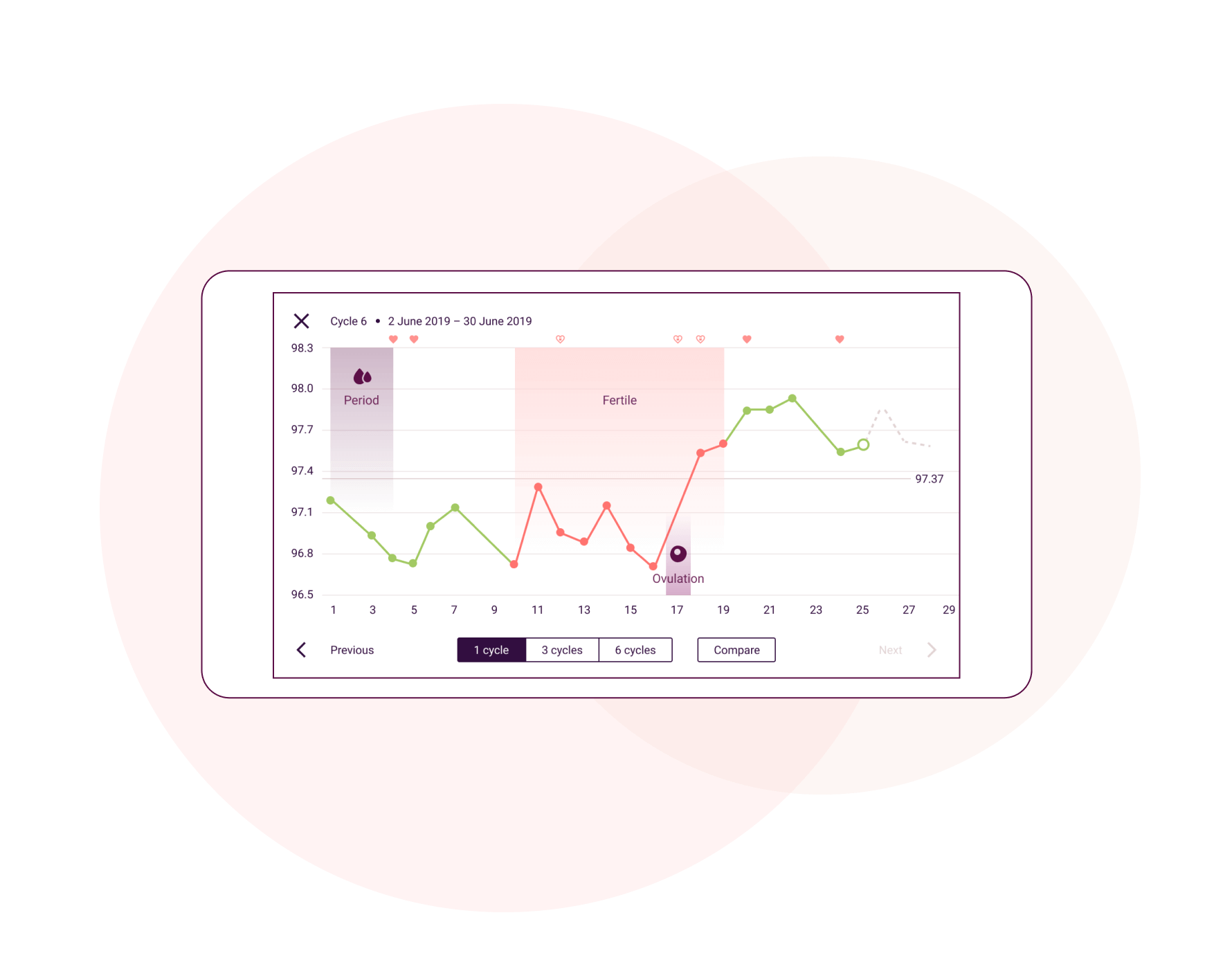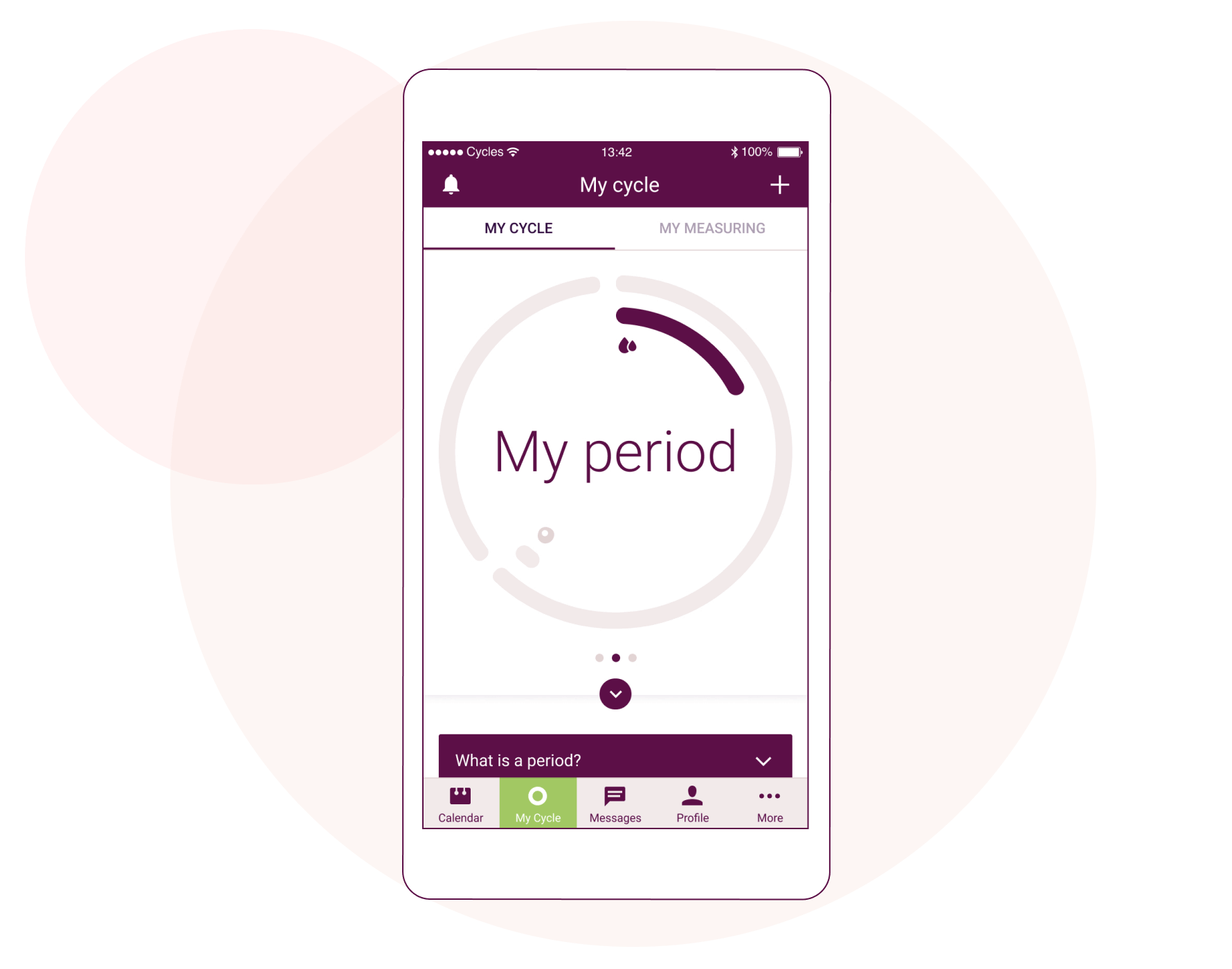 Statistics
This view is all about the numbers behind your cycle. It will give you an overview of how your average cycle looks as a graph; your cycle length, regularity and a detailed analysis of the three phases of your menstrual cycle – the follicular, luteal and ovulatory phases. You can see the average statistics of all women using Natural Cycles below yours, so you can compare them. Your cycle begins on Cycle Day 1 (CD1) with the first day of your period and ends when your next period begins.
Offline mode
When you are offline you can continue to add your temperature and other data to the app. When offline, the app does not calculate your fertility status. Instead, the app will show an orange outlined circle indicating your status as "Use protection". Use protection (such as condoms or another form of barrier protection) or abstain until you are back online and the app has calculated today's fertility status.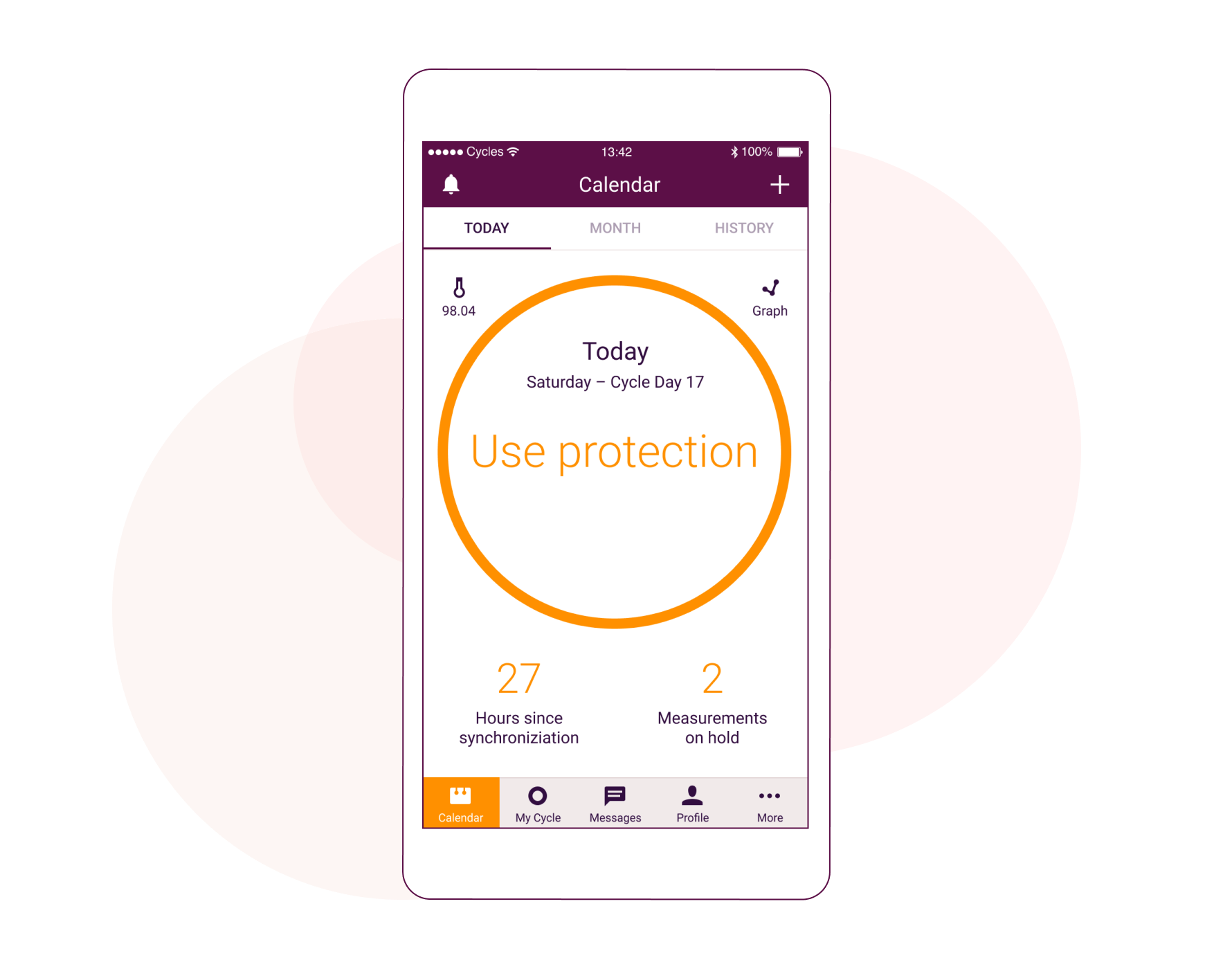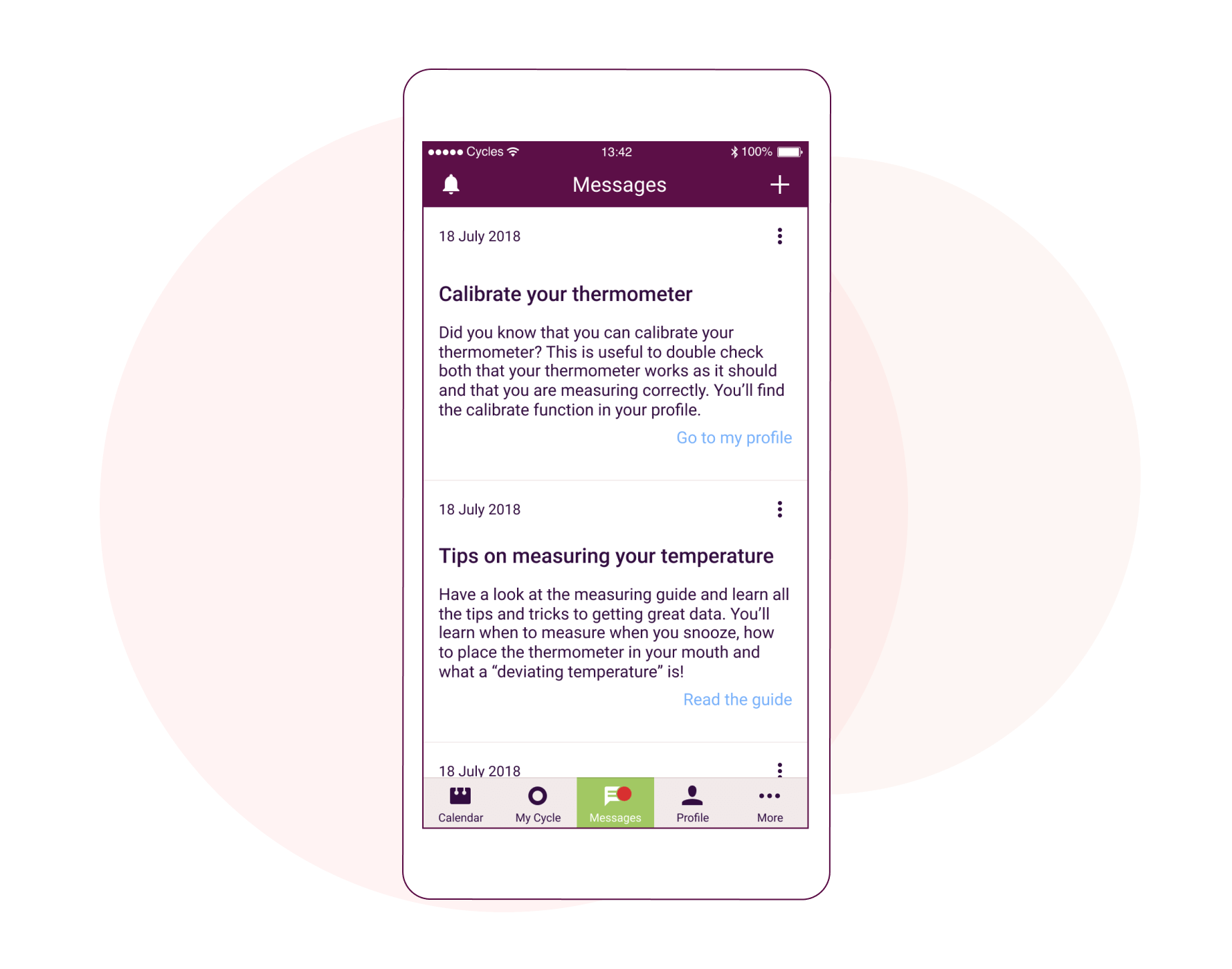 Messages
These are gentle reminders and useful information we send you, so you can get the very most out of your Natural Cycles experience. Messages are tailored to your unique cycle and are only sent if they are relevant to you. Learn more about your body, know exactly when your period is coming up and more. You can also contribute to research in women's health by answering one of our research questions. This just takes just a couple of seconds and with your support, we can continue to drive studies within the fields of birth control, reproduction and fertility.
User Manual
Find the User Manual in the app under the Regulatory header in the More view, or read the User Manual online here.
Ready to get started?
Get the annual subscription today, thermometer included.